Awards for All Grant for Redcastle Book
Added on 07 May 2009
Senior Archivist of The Highland Council, Susan Beckley, presented an "Awards for All" grant certificate to John McDonald, the Chairman of the North Kessock & District Local History Society at its May meeting, watched by Graham Clark and members of the Society.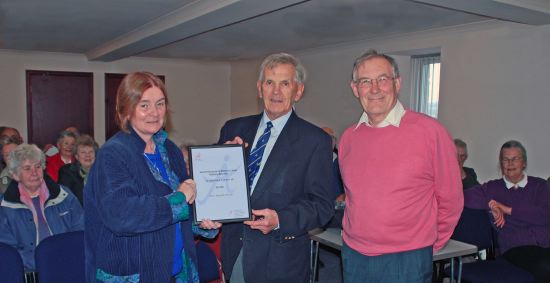 The grant will be used to support the publication of a local history book on Redcastle which has been written by Graham Clark entitled "Redcastle: A Place in Scotland's History". It describes the fascinating and, at times, extraordinary history of a remarkable part of Scotland, based on a collation of primary source documents and other records relating to the Redcastle Quarry, the churches, schools, civil administration and people of Redcastle.

Graham said: "Redcastle is a place rich with history, from the dangerously unpredictable Kenneth Mackenzie to the gentle ministers who tended the people who lived there. I have tried to create a vivid and detailed account of this historic part of Scotland."

The book is due to be launched at the Society's exhibition, "Changing Fortunes at North Kessock & Craigton" to be held on Friday 4th and Saturday 5th September 2009.
File name: PRESS RELEASE A4A 7.5.09