North Kessock and District Exhibition 2007
"A Celebration of the Kessock Ferries" - something to celebrate!

The Exhibition held in North Kessock Village Hall in July attracted nearly 900 visitors from North Kessock to the Czech Republic with comments ranging from "Great!", "Well Done", "Happy Memories", "Really Interesting" to "Ferry Good!"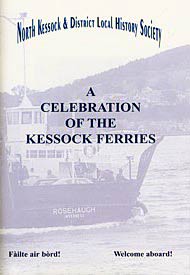 Kessock Ferry 2007 Exhibition Kessock Ferry 2007 Exhibition The Committee wishes to thank all the members and friends who worked so hard to make this year's project such a success. Special thanks go to Hugh Patience former Chairman of the Kessock Ferry Joint Committee who opened our exhibition and Pipe-Major Andrew Venters who piped us down Memory Lane to the last sailing of the "Rosehaugh" with his own composition "Farewell to the Kessock Ferry".
Pupils of North Kessock Primary School came out tops with the colour and interest their artwork added to many areas of the Hall.
Others who joined the celebrations were Moray Firth Cruises, the RNLI, the Florians, Am Baile and the Dolphin and Seal Centre. Their contributions are much appreciated. Plans are in hand to take part of the Exhibition on Tour for those who missed out on the Big Event
Exhibition Booklets are available from the Post Office at North Kessock ~ price £3 each. Also by phone 07757 821373 or email: info@kessockferry2007.com